Seamus Sands was brought up in Co. Down and now lives in Co. Cork, Ireland. He is very highly regarded for his unique personal style of relaxed, melodic, and rhythmic traditional Irish fiddle playing and was taught and influenced by some of the legendary players no longer with us. He comes from a very musical family and a long line of fiddle players.
From his debut solo CD "Across Bridges", described as "breathtaking" and "a pleasure that unfurls on every visit"…….
"I'm very fortunate that fiddle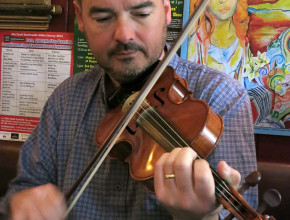 playing in our family has been a strong thread weaving together at least five generations. My great-great-grandfather (Sands) played, my great-grandfather played, his seven sons including my grandfather all played fiddle, there were fiddlers in my father's generation, and my daughters all play fiddle. There was music and singing on my mother's side also. Hopefully it will be there in future generations as a source of enjoyment and relaxation"
In the notes from his solo CD (Across Bridges) he acknowledges some key influences …
"…some of the older players that most influenced me include Paddy Canny, Paddy Carty, Jackie Roche, Martin Rochford, Bobby Casey, Con Cassidy, Joe Ryan, John Kelly, Jimmy Burns, Ben Lennon, Josephine Keegan, and Junior Crehan. Clean, melodic, minor-keyed, relaxed playing with a bit of a natural lift has always appealed to me".
Seamus has developed a unique and appealing style of fiddle playing, having absorbed various aspects of  the musical textures of both the North and South of Ireland, and his style is grounded in strong family roots and a deep appreciation of older musicians and of older music sources.